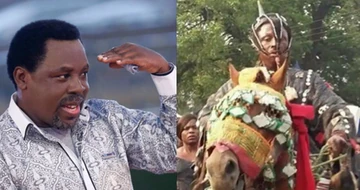 The popular spiritualist made a video of himself saying the founder and leader of the Synagogue Church Of All Nations attacked him spiritually and he hit back in defence, leading to his demise.
"TB Joshua was attacking me spiritually. He said that he wants to finish me, he wants me to die" Kwaku Bonsam said in the video posted on his Facebook page.
He disclosed that he once had the cause to visit the Vatican at a point in time to report TB Joshua to the Pope.
RECOMMENDED FOR YOU
News of Prophet T.B Joshua's death broke on Sunday, June 6, 2021.
The Synagogue Church of All Nations members and followers of the preacher are still in shock following the unexpected event.
His widow, Evelyn Joshua said the death has hit the family so hard that it is only the almighty God that can soothe their broken hearts.