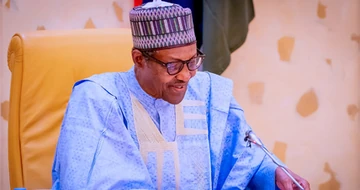 President Muhammadu Buhari, infamous for his rare engagement with the media, will appear in his second local interview in two days late on Friday, June 11, 2021.
The president's spokesperson, Femi Adesina, said in a statement on Friday afternoon he will appear on government-owned Nigerian Television Authority (NTA) at 8:30 pm.
"It promises to be revealing and educating. Kindly keep a date," he said.
RECOMMENDED FOR YOU
Buhari appeared in an interview aired on Arise TV on Thursday, June 10, addressing issues of insecurity, and his handling of the country.